16.05.2022
Cybergrooming: How to protect children and young people from online dangers
On June 1st, it will be Kindertag ("Children's Day") here in Germany. As such, we have taken it as an opportunity to raise awareness about the dangers that exist for young people online. Today's blog post will focus on one of the biggest threats facing children online: Cybergrooming. But what exactly is cybergrooming, and how can we protect children and young people from it?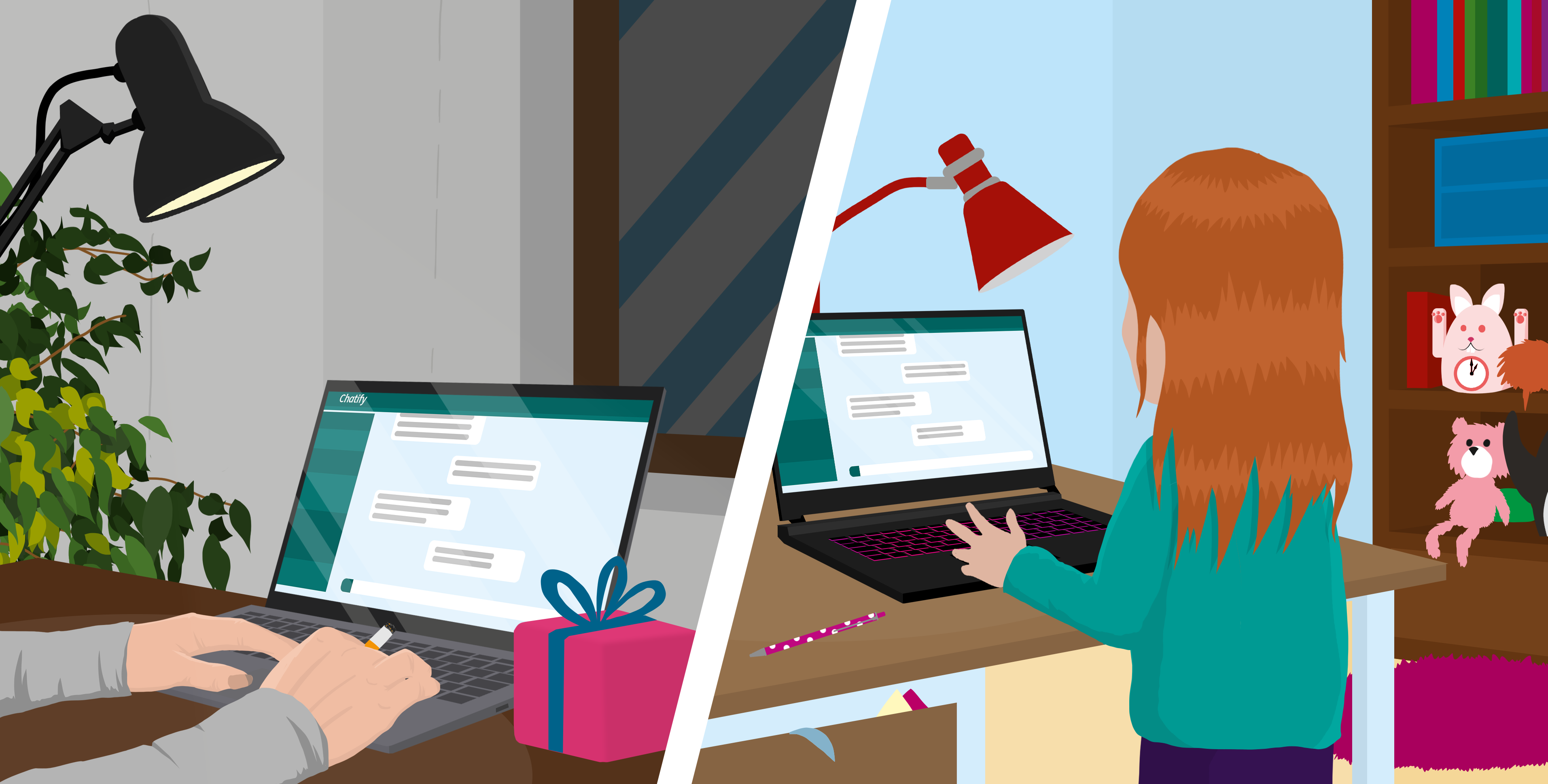 Cybergrooming is a very sensitive topic, which is perhaps also a reason why it is not yet sufficiently reported in the media.
It refers to the initiation of contact by adults, but sometimes also young people, with children in order to initiate sexual acts. This can take many different forms.
For example, sexual conversations may be exchanged, or photos and videos may be sent by the perpetrators showing their genitals or pornography. The children or young people may themselves also be asked to send such pictures and videos. In this case, there is a danger that the perpetrators will distribute the images and videos as child pornography. Cybergrooming can go so far that the criminals get the victims to date them in real life.
What do the perpetrators do?
These kinds of criminals take a similar approach. They have a feeling for the needs and interests of children and young people, and they know what appeals to them and thus can gain their trust. Using this information, they can succeed in manipulating the victims so that they do what they want.
The first step is always to build trust. The perpetrators usually pretend to be children or young adults in chats and groups. However, they can also appear as an adult, portraying themselves as someone who understands the problems of the potential victims. This works especially well with young people, who often have a complicated relationship with their own parents at this age. The perpetrators talk about the young people's interests but also about their emotional needs and feelings. Some also brag about their sexual experience or offer gifts. The aim of this approach is often to draw out feelings of curiosity from the victims.
Establish identity and redirect communication. Once trust has been established, the perpetrators try to find out the victim's name, age or address. At this point, the victims have usually already been asked for photos or to initiate contact via a webcam, which at first seems relatively harmless.
Then the criminals try to redirect the conversation to private communication channels (e.g. via messenger services, SMS, or video call). Here, the criminals begin to ask more intimate questions or even send pornography.
Twisting reality and threats. If the victims want to back away, the perpetrators start to exert pressure. If the victim has accepted gifts, the perpetrator claims to file a complaint or report. This is used to instil feelings of guilt in the victim. If the victim has sent pictures or videos, they threaten to publish them. It is often the case that both children and adolescents are manipulated into maintaining complete secrecy of the communication or taking a vow of silence. All these methods are intended to prevent contact from being broken off.
Facts and figures
Unfortunately, it isn't easy to obtain clear facts and figures on cybergrooming. Far too much happens in private chat rooms, and those targeted rarely turn to their parents or other trusted people to report it. As such, this form of sexual assault can all too often remain hidden.
Furthermore, there is an enormous increase in sexual assaults on minors online. A report by the BKA from 2020 states a rise in online sexual exploitation of children and young people increased by 30% in the first lockdown. Various self-experiments also show how easy it is for perpetrators to make contact with children and young people online.
Raising awareness and educating children and young people
One problem is that parents understandably react in shock and respond to a cybergrooming incident by banning the child from the computer or taking away the device. But this way is wrong. It would be much more important to show solidarity and support at that moment.
Many parents also react with shame and are angry at themselves for not being able to prevent it or not paying enough attention to what their child is doing online. Cooperation and education are the keys to ensuring that it remains a one-off incident.
It is important, above all, not to let children surf the net alone. Parents should sit down together with the child at the computer and look for suitable content. It is not wrong to look over the child's shoulder and be interested in their online activities. With teenagers, of course, the situation is somewhat different as privacy is very important to children of this particular age group. As soon as you, as a parent, take too strong a stance, your child might try to be more secretive about their online activity.
Explain to your child how to block and report people on social networks. Tell them to stop contact with anyone online as soon as they feel uncomfortable.
You should always let your child know that you are always open to discussing any issues of this nature and approach possible problems entirely without prejudice. In doing so, the child can be sure that they do not have to be afraid to talk to you about possible incidents.
Protecting data and setting up computers
Even though cybergrooming can never be 100% ruled out, there are some ways to reduce the risk. In addition to good education and awareness, the computer should be set up accordingly. The following tips can be easily implemented:
Using pseudonyms. Explain to your child why they should not reveal personal data at any time.
Masking the webcam. Your child should never use the webcam unsupervised. Tape it off when it is not in use, as hackers can gain access to it at any time and switch it on unnoticed.
Block websites. Children should not visit websites that are only suitable for adults. There are many parental control programs that only allow selected websites to be accessed that can assist with this.
Cybergrooming is difficult to prevent with software and programs alone. As soon as your children encounter the internet, there is a risk of encountering perpetrators. Therefore, education and awareness are the most important responsibilities to protect your child from this form of assault.