03.03.2021
Digital learning vs face-to-face teaching – which is better?
When you look at the title, the first thing you might think is: why compare the two things with each other? Teaching and learning – like comparing apples and oranges. On the one hand, the focus is on the person learning; on the other, the person teaching.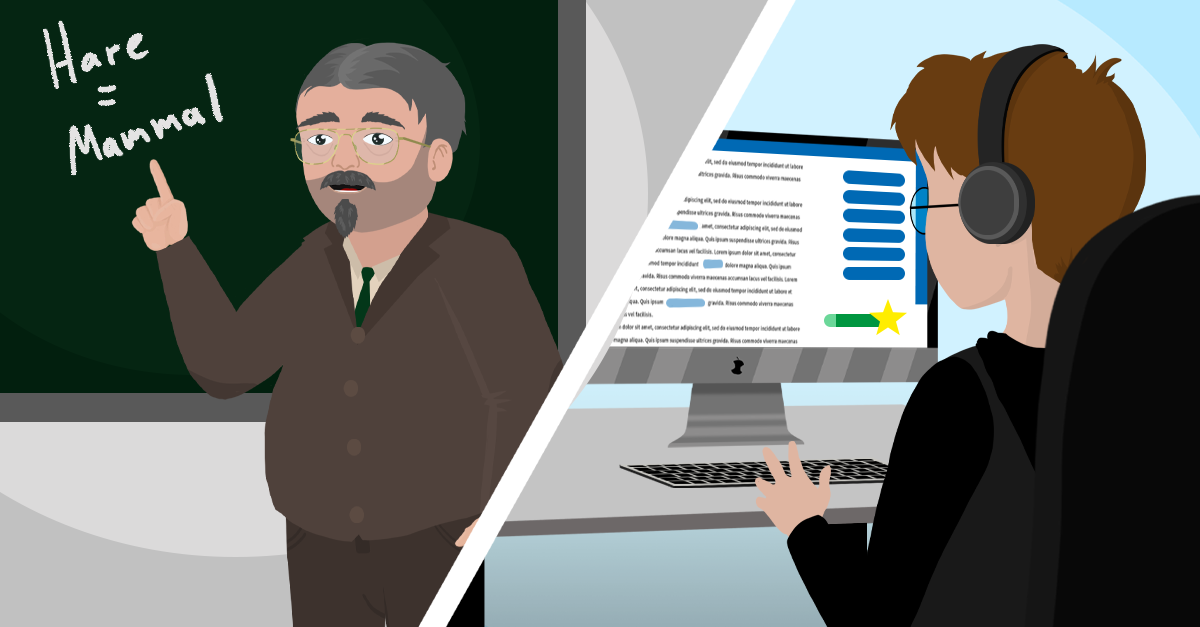 However, constant digitalisation, and in part due to Corona, ensures that further education or educational processes in general (often forced) occur digitally. For learners and teachers, the framework conditions are changing. With the first lockdown, many companies, schools, administrations etc. pp. were suddenly faced with entirely new challenges and were unable to make the necessary preparations. Processes had to be holistically converted and adapted to remote conditions – not an easy task. Lectures, seminars or further training courses, for example, are simply held in front of a screen via live transmission in the hope that it will achieve the same learning effect. But unfortunately, this is not enough. With this form of teaching, completely different framework conditions have to be considered. But how to solve this problem will not be discussed further here. Tips on how digital learning processes can be made interactive, for example, can be found in the following blog article: How can digital learning processes be made interactive?
This blog article will first summarise the advantages and disadvantages of digital learning and face-to-face teaching and then explore the possibilities and advantages of e-learning.
Face-to-face teaching
Let's start with face-to-face teaching, which has been taking place almost unchanged for many years. The essential feature of this form is the physical presence of the learner and the teacher. The advantage here is, above all, the personal "face-to-face" exchange. During and also at the end of events, there is room for discussions, questions and suggestions. This makes it possible to get unresolved issues out of the way directly. In addition, experience has shown that, compared to web seminars or online lectures, learners are more willing to actively participate. However, the place and time are usually fixed in this form, making the whole thing less flexible. In addition, it is not uncommon for attention to wane rapidly after a certain time. Especially in lectures with little interaction, it happens that concentration drops and one is only physically, but not mentally, involved. Here it is the task of the teacher to prevent this and to maintain attention.
Digital learning
Let us now enter the world of digital learning, so-called e-learning. Here, it is important to understand some fundamentals.
What does e-learning mean? What forms of e-learning are there? When is it used? What do the terms web-based training, mobile learning, blended learning and microlearning mean?
E-learning is the visualisation of learning content with the help of digital media formats. A popular form of knowledge acquisition is the learning video. Learning videos are not only used in school or company learning processes but are also used in the private sphere for further voluntary education.
Did you know that the term 'e-learning' was initially even used for radio, television and teletext? Even saving learning content on a diskette (floppy disk) was considered e-learning.
📺 📻 💾
However, the modern variant of e-learning is to be considered much more far-reaching. The aspect that must be retained is that e-learning can take place independent of location and time with the help of the intranet or internet. By linking a wide variety of technologies, it is now also more multimedia and interactive. Communication can be further extended via email, chat functions, blogs or social media and enables a quick exchange between teachers and learners even without personal contact. For some years now, however, the term "digital education" has been used more frequently in place of e-learning.
Web-Based Training
Web-Based Training (WBT) includes all web-based educational formats. This means that learning content can no longer be accessed only via data carriers. It can be accessed via the web regardless of time and place. This form combines many different media formats to provide variety and thus intensify the learning process. With the help of graphics, pictures, videos, various tasks, simulations or controllable animations, learners are encouraged to engage intensively with the learning content. A characteristic of all e-learning formats is that learners can choose the pace and sequence of the content themselves. Due to ever-evolving technologies, WBTs are increasingly optimised for mobile devices. This means that the boundary between WBT and mobile learning is gradually disappearing.
Mobile Learning
As the name suggests, mobile learning is not an independent concept of learning but merely describes the form of availability. Learners have the possibility to access learning content via smartphones or tablets and can also communicate via the corresponding devices. This is intended to create the possibility of a link between work and learning and to improve the teaching-learning processes as a whole. I often hear from local governments that not all employees have a PC workstation. But if learning content is made available for mobile devices, a PC workstation is not always necessary for digital learning. The 2018 study "eLearning Benchmarking" took an in-depth look at mobile learning trends. The decisive argument against the use of mobile learning was cited by 49.5 % of the respondents as the lack of infrastructure and 36.2 % as the costs. For this reason, many companies (49.5% of those that enable mobile learning) have already implemented the BYOD ("bring your own devices") concept. In 49.5% of the companies surveyed, employees can use their own mobile devices for in-company training.1
There is no question that the use of one's own smartphone poses a risk of digital distraction. Learners can quickly lose focus on the learning content via social communication channels during the respective learning units. In addition, the concerns of the works council, the management and also the learners themselves are understandable at this point. Furthermore, security issues need to be clarified, and the connection to the learning management system (LMS, if available) needs to be checked. But overall, there is cause for optimism from the impact analyses so far. The opportunities of mobile learning are hidden in the increase in motivation and the possibility of independent learning.
Blended Learning
The teaching-learning processes of the blended learning variant are designed as a combination of face-to-face events and digital learning media. In this way, the advantages of both formats are fully utilised, and the disadvantages are mutually compensated. On the basis of digital learning media, such as WBTs or learning videos, the learning content is first learned self-directedly in phases of several weeks and then deepened in problem-oriented face-to-face seminars. It is important to coordinate both formats and to consider them as a whole. The aim is for learners to go through the so-called learning loops more often by combining the learning formats. This includes imparting, applying and reflecting on the learning content in order to ensure sustainable learning success. But here, too, this learning format can only be successful if, on the one hand, the technical prerequisites are in place and, on the other hand, the pedagogical-didactic knowledge is available.
Microlearning
Finally, we will take a closer look at the term microlearning. Since the 2000s, microlearning has often been used in connection with technology-supported learning and WBTs. Similar to mobile learning, microlearning is not an independent learning concept. Rather, it is characterised by the micro perspective that is applied to the learning process. The contents amount from small to very small units and can accordingly be processed in a very short time. Short explanatory videos are often used here. It is, therefore, a measurable amount of time that can be integrated into a curriculum or module. Microlearning can be used to teach individual skills, competencies, or so-called knowledge nuggets. Knowledge nuggets summarise the most important aspects of a subject area in about 15-20 minutes. Microlearning is therefore particularly suitable, for example, for a repetitive, activating, reflective, constructivist or even behaviourist form of learning. It is a popular form of learning in companies or in the workplace.
So which better? Digital learning or face-to-face teaching?
Whether one or the other is better cannot be said in general terms. However, one thing is sure: you have to do both right; only then can it work. In recurrent awareness-raising activities, the trend is clearly in the direction of digital learning in order to maximise the flexibility and effectiveness of the resources used. With the help of e-learning courses, knowledge is acquired and tested independently and then, if necessary, deepened or discussed in face-to-face meetings or seminars. In comprehensive continuing education measures, the blended learning concept is similarly increasingly used, whereby the individual learning formats are interlinked here. This means that the online-controlled self-learning phases are continuously coordinated with the recurring classroom events and build on each other.